Whether to hide the TV in your home decor or not is entirely up to you. If you're serious about decorating your home and you think about every detail, you have to think through the positioning of the TV too. It doesn't have to be an eyesore though as there are ways to hide your TV.
How you do it, depends on your decor style but there are certain things you can try. From making the electronics look a seamless part of the room to camouflaging it out of the view – here are 10 clever ideas how you can disguise your TV in home decor.
Let us know which one is your favourite
Fabric Panel Cover
Use a panel of fabric in any pattern you want to create a cover for the TV and turn it into wall art.
Source: homestoriesatoz.com
Mount the TV on an Accent Board
You can create an accent in the room's decor with a board (like this rustic one) which makes the TV blend in. And it can even have some shelves for extra storage.
Source: www.hayneedle.com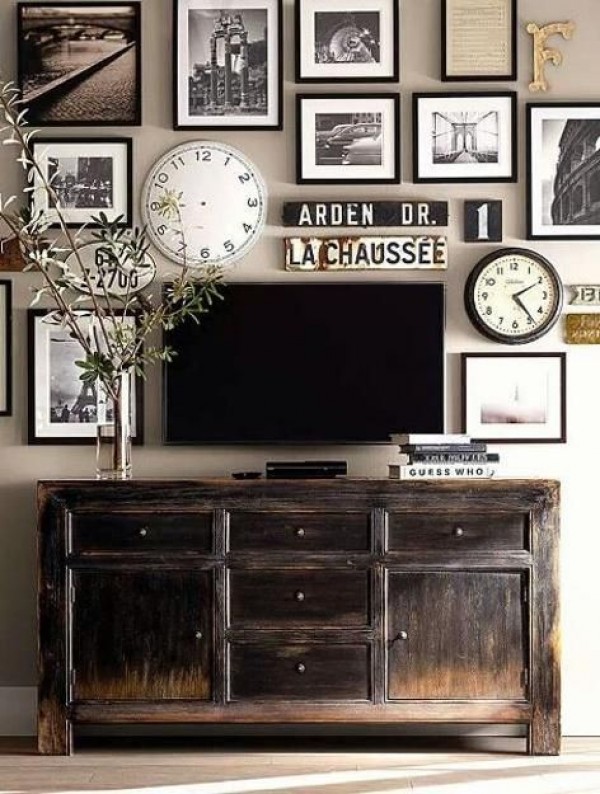 Decorate Around It Heavily
The easiest way to draw any attention away from the big black flat box is to decorate heavily around it, thus balancing the space out. You can do that with pictures or wall art.
Source: www.lushome.com
Hide It behind Sliding Doors
If you want to hide it altogether, a great crafty way is installing a sliding door just for the TV.
Source: www.homedit.com
Hide It in the Table
Another crafty DIY project with an integrated hidden TV is this coffee table that opens up to reveal the technology.
Source: www.justlaine.com
Slide the TV up
Or this ingenious way to slide the TV up from the cabinet.
Source: myscandinavianhome.blogspot.se
Let us build your dream home!